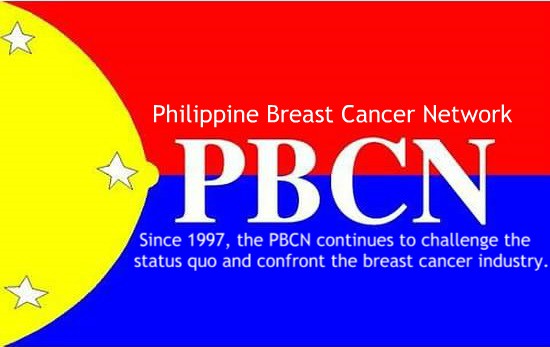 Organized as a direct result of the 1st World Conference on Breast Cancer in 1997, the PBCN continues to advocate for
the global eradication of this unacceptable disease that threatens ALL women, no matter what color, age or creed.

JUNK Senate Bill Nos. 1873, 2114 and 354!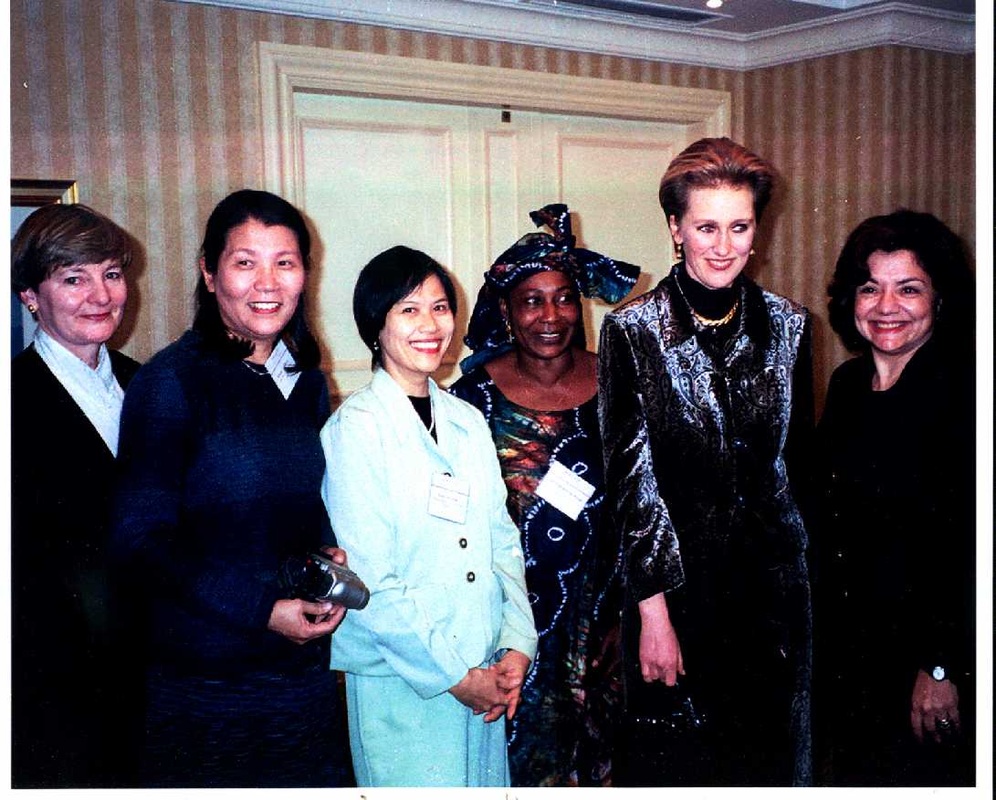 "The greatest risk of getting breast cancer tomorrow is being born today in a developing country.
The greatest risk of not surviving breast cancer today is being a woman in the Philippines."
Rosa Francia-Meneses, 1999 World Conference on Breast Cancer, Ottawa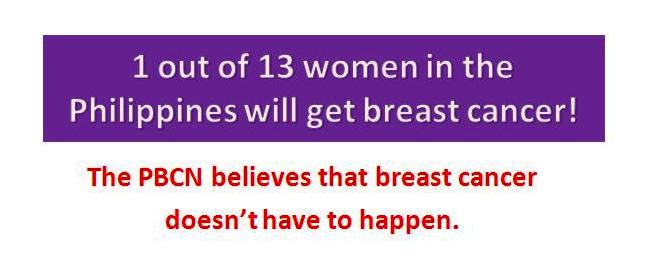 When all known risk factors and characteristics are added together, more than 50% of breast cancer cases remain unexplained. In the 1980's, the lifetime risk for breast cancer was 1 in 32. Today it is 1 in 13 and this number is growing significantly. There is only one proven environmental cause - exposure to ionizing radiation such as X-rays (mammography), uranium and other radioactive materials, or nuclear waste. An estimated 85,000 synthetic chemicals are registered for use today in the U.S.A. and most if not all are present in the Philippines. More than 90% have never been tested for their effects on human health. There is strong evidence linking some of these chemicals to breast cancer, especially xenoestrogens - chemicals that mimic the actions of estrogen and that are found in some pesticides and fuels, plastics and detergents.

Studies have found more than 200 synthetic chemicals in human breast milk. It is a well-documented fact that many chemicals accumulate in body fat and remain in breast tissues for decades. Studies show that all women carry persistent pollutants in their blood, breasts and other fatty tissues.

Fact # 1 All women are at risk. Approximately 70% of breast cancers occur in women with none of the known risk factors.

Fact # 2 Only about 5% of breast cancers are inherited. About 80% of women diagnosed with breast cancer will be the first
to be victims in their families.

Fact # 3 Early detection does NOT prevent breast cancer. Avoiding and elimating known causes will prevent breast cancer!

Fact # 4 Mammography fails to detect as much as 20% of all breast cancer and as much as 40% in women under the age of 50.

Fact # 5 One out of four who are diagnosed with breast cancer die within the first five years.
No less than 40% die within ten years.

Fact # 6 Risk factors are not necessarily causes of breast cancer. Enough evidence exist linking environmental pollution
and contamination to cause breast cancer.

Fact # 7 The global incidence of breast cancer has tremendously risen by 256% the past 30 years with Southeast Asia
increasing by 479%! And the supposed authorities and experts that should know, don't know why.

Fact # 8 Breast cancer is the leading killer of women ages 35 to 54 worldwide. More than a million women develop breast cancer
without knowing it and almost 500,000 die from it every year.

Fact # 9 1 out of 13 Filipno women will develop breast cancer in her lifetime.
The province of Pampanga has the highest incidence rate in the entire country.

Fact # 10 The Philippines has the highest incidence rate of breast cancer in Asia and registered the highest increase of 589%
among 187 countries over a 30 year period from 1980 to 2010.